10" id="header" class="relative pt-12 z-100">
Religious Ed. Registration
Bringing Families Together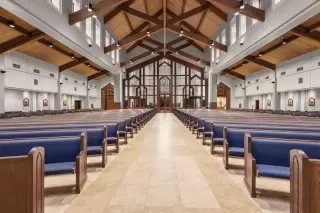 Most Blessed Sacrament Catholic Church was organized as a Parish of the Roman Catholic Diocese of Baton Rouge in 1979. The Most Reverend Joseph V. Sullivan, S.T.D., Bishop of Baton Rouge gave the solemn blessing and with the founding pastor, the Reverend Monsignor Lester Lacassagne, laid the cornerstone in December of 1979.
MBS began as a family parish and strives to retain that flavor.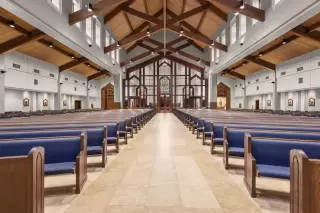 There are more than 2,800 families in the parish, or approximately 9,000 persons, the average age of our parishioners is 29 years old.To minister to this youthful and growing population, over 30 ministries and organizations have been established, providing spiritual, social and material benefits for the parishioners and the community.
A groundbreaking ceremony was held on Sunday, June 12, 2005 for the construction of a new administration building and a new Church.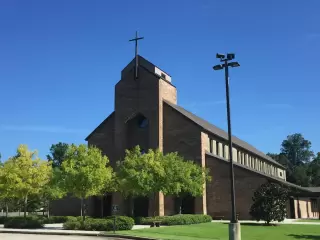 Most Blessed Sacrament had long outgrown its present facilities and it was only natural that the new church and administration building was needed.
The Administration Building was completed in June of 2006. In addition to the usual offices, conference rooms, waiting area, and other special purpose rooms, there are four meeting rooms of various sizes which can be opened and operated independently of the administration offices.
On January 21, 2007 a new church was completed and dedicated.
The dedication ceremony was conducted by Bishop Robert Muench, the former Pastor Father Michael Collins, along with many of the diocesan priests and deacons in attendance. The new church consists of 17,000 square feet. It is constructed in the Catholic tradition style following the guidelines and regulations of Vatican II.
The Narthex is a very spacious area of the church which allows for meeting and greeting of parishioners and the celebrant in a friendly atmosphere. The narthex is flanked by special rooms for reconciliation, brides, vesting, ushers, and restrooms. The main body of the church contains enough pews to seat 940 people. The Sanctuary contains the Altar, Ambo, Priest's Chair, and tabernacle. On the right side of the Sanctuary is the choir and on the left the baptismal font. Everyone who has attended Mass in the new church is overwhelmed with the beauty and the prayerful atmosphere.
Most Blessed Sacrament School teaches grades PreK-8 in two sections and has an extended care program as well.
Enrollment at the school averages about 520 students. The parish also has an Early Learning Center for children 2 – 4 years old.